New Threat to Florida from the Tropics
Panama City, Florida – A new Tropical Depression has formed it the western Caribbean and is likely to strengthen while moving into the Gulf of Mexico this weekend. The National Hurricane Center began issuing advisories on Tropical Depression Sixteen Wednesday morning, and an Air Force Reserve hurricane hunter aircraft is scheduled to investigate the system later this afternoon. All Floridians near the Gulf Coast from Pensacola to Tampa should closely monitor this developing situation.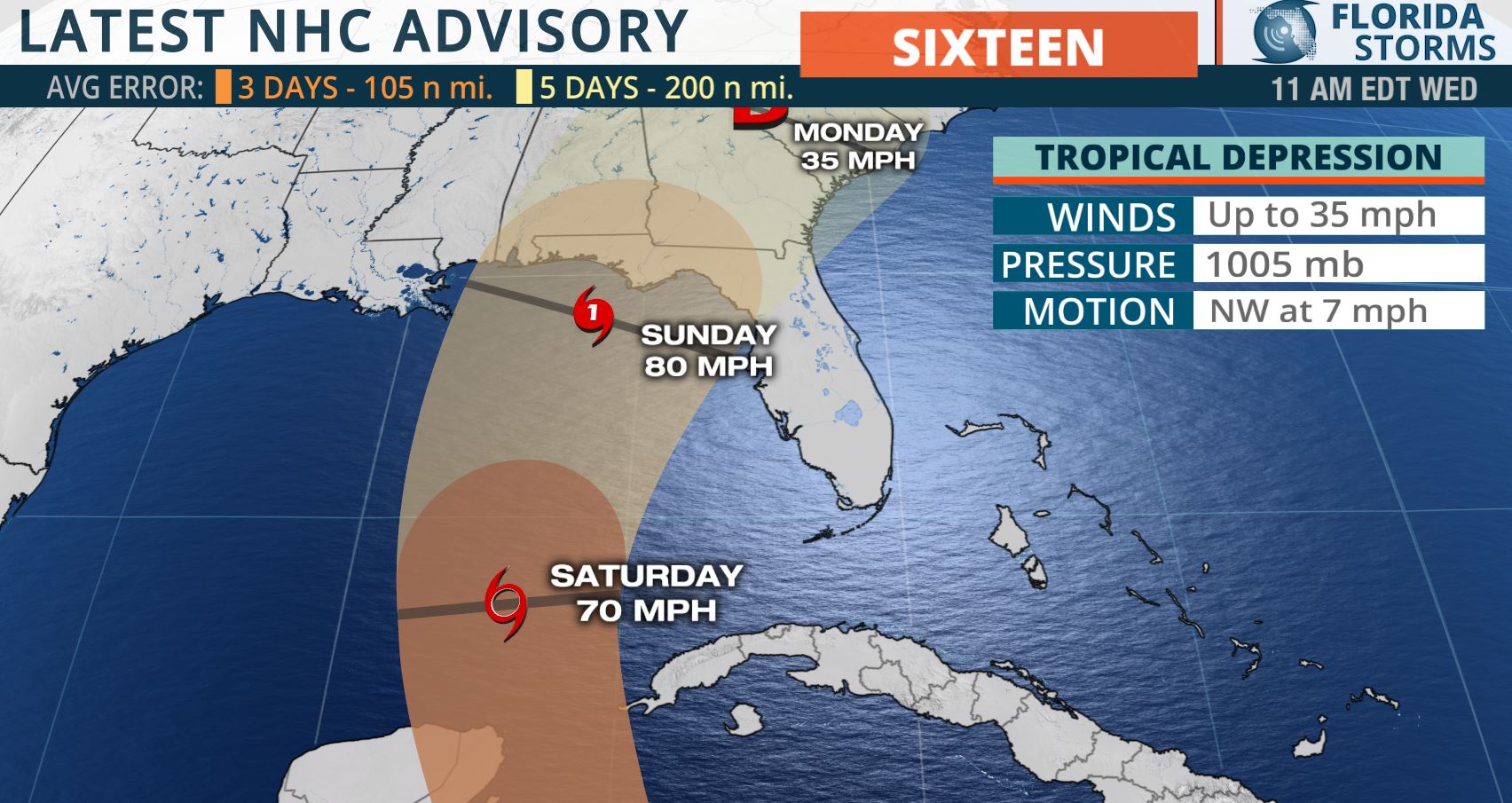 Any tropical system that is in the early stages of development presents an array of forecast challenges, such as the rate of intensification, the eventual track, or the severity and reach of potential impacts. All of these are still very unknown with Tropical Depression Sixteen. As of Wednesday morning, the official forecast was for  the cyclone to intensify into a tropical storm by Wednesday evening and make a first landfall in Nicaragua early Thursday morning. The storm is then forecast to move north, back out over the warm water of the western Caribbean, and resume intensification.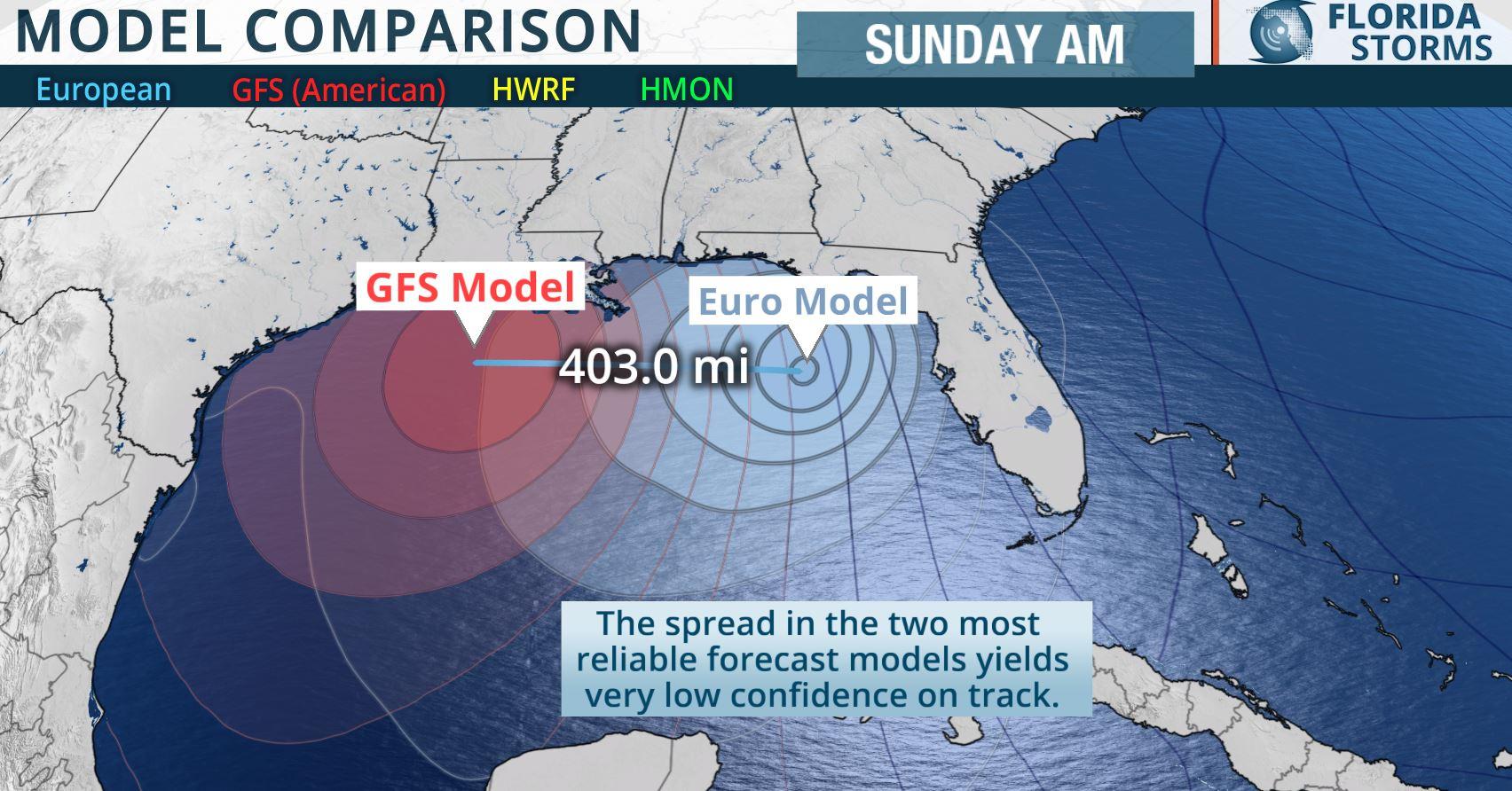 Soon-to-be Tropical Storm Nate is likely to enter the Gulf of Mexico by Saturday morning and continue steady intensification until landfall somewhere between Mobile, Alabama and Cedar Key, Florida. The average track error at time of landfall, which is day four in this case, is nearly 150 miles to either side of an official forecast. Potential impacts, whether it be storm surge or wind, can extend dozens – if not hundreds – of miles from the center of a tropical cyclone and are not represented by the forecast cone from the National Hurricane Center.
At this stage in the tropical cyclone's evolution, and especially considering there is still plenty of time to take action on a hurricane plan, residents in the potential path of TD16 (Louisiana to Florida) should take steps to ensure their hurricane plans are completed in the next couple of days and heed any advice from local officials as the situation unfolds.
Story by Jeff Huffman at FPREN at floridastorms.org  
WKGC is a Florida Public Radio Emergency Network Station for NW Florida
At 1100 AM EDT (1500 UTC) on Wednesday, October 4th, 2017, the center of Tropical Depression Sixteen was located near latitude 12.2 North, longitude 81.9 West. The depression is moving toward the northwest near 7 mph (11 km/h) and this motion is expected to continue today. On the forecast track, the depression should be nearing the coast of Nicaragua early Thursday, move across northeastern Nicaragua and eastern Honduras late Thursday, and emerge into the northwestern Caribbean Sea on Friday.
Maximum sustained winds are near 35 mph (55 km/h) with higher gusts. The depression is expected to become a tropical storm later today or tonight.
The estimated minimum central pressure is 1005 mb (29.68 inches).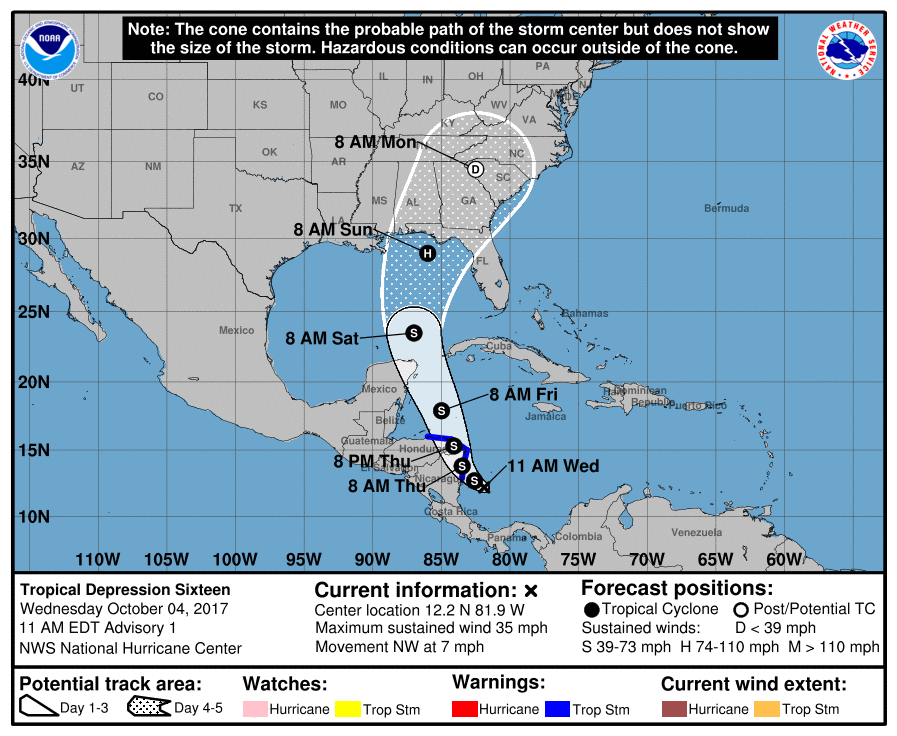 Connect with WKGC
comments