Broad area of low pressure forms in Western Caribbean
Panama City, Florida – The National Hurricane Center says at 1pm cdt on Tuesday, October 3rd, 2017 that there is a "medium chance" a named tropical storm will form and move into the Gulf of Mexico by Friday. Forecast solutions range from Louisiana to the Nature Coast on this right now. All hazards from at least a tropical storm should be planned for from Pensacola to Tampa heading into THIS weekend, as there may only be a day or two to prepare once forecast specifics become clearer. There is the potential for this system to approach the northern Gulf Coast this weekend. It is still far too early to discuss possible or specific impacts across our area as there are still too many uncertainties.
It never hurts to be prepared as we traverse through the peak of hurricane season. Now is a good time to look over your hurricane preparedness list and make sure your supplies are well-stocked. If you are heading to the grocery this week, go ahead and update your emergency kit by adding extra food and water (for you, your family AND your pets) to your list.
For more information, visit WKGC Storm Center to get Florida Public Radio Emergency Network updates.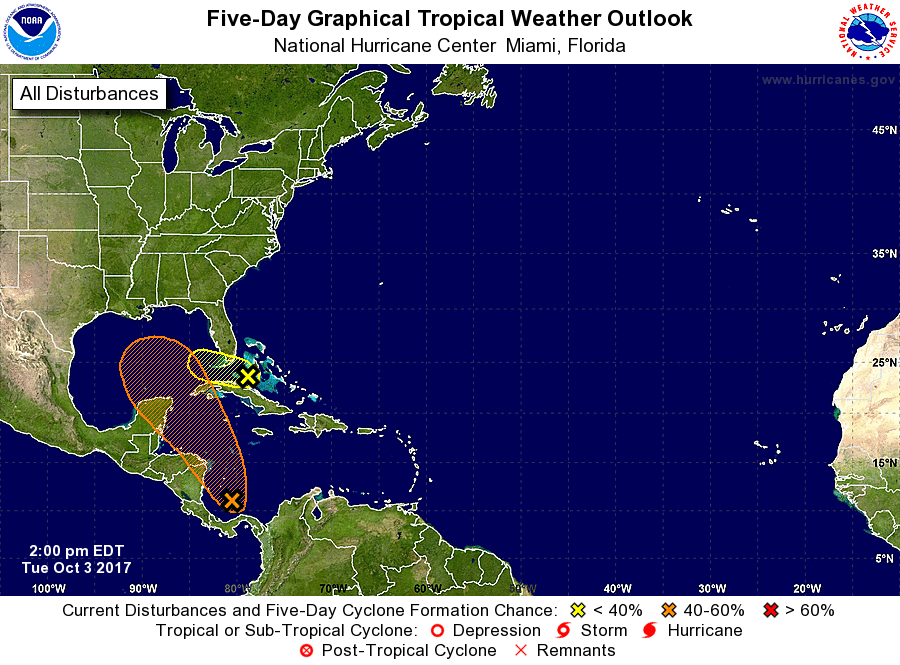 Tropical Weather Outlook
NWS National Hurricane Center Miami FL
200 PM EDT Tue Oct 3 2017
For the North Atlantic…Caribbean Sea and the Gulf of Mexico:
1. Satellite images and surface observations indicate that a broad area of low pressure has formed over the southwestern Caribbean Sea. Environmental conditions appear generally conducive for development, and this system could become a tropical depression within the next few days while it drifts northwestward to northward across the northwestern Caribbean and adjacent land areas and into the Gulf of Mexico by the weekend. Regardless of development, this system will likely produce heavy rains over portions of Central America during the next few days.
* Formation chance through 48 hours…medium…40 percent.
* Formation chance through 5 days…medium…60 percent.
2. A trough of low pressure located over Cuba and near the northwestern Bahamas is producing a large area of disorganized
showers and gusty winds. Although significant development of this system is not expected due to strong upper-level winds, this system will likely produce heavy rain and gusty winds over portions of the Bahamas and Florida during the next couple of days.
* Formation chance through 48 hours…low…10 percent.
* Formation chance through 5 days…low…10 percent.
Forecaster Cangialosi
Connect with WKGC
comments