Franklin County Mandatory Evacuation 9.10.17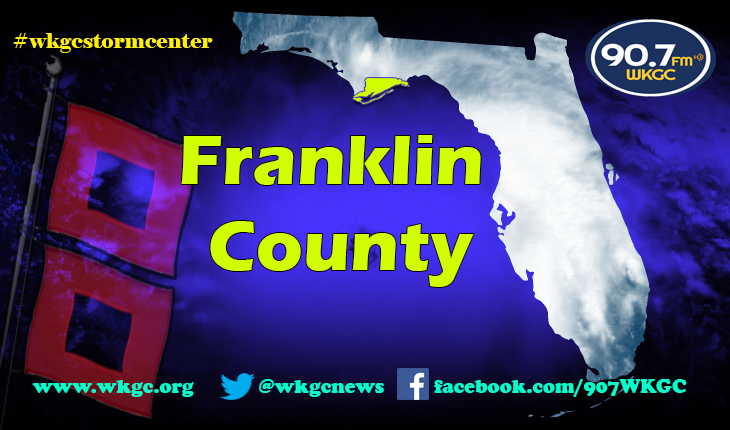 Franklin County – 9/10/2017 8:00 am
As a precautionary measure, Franklin County is issuing a MANDATORY EVACUATION starting at 10:00 am.
Hurricane Irma's track has shifted to a more westerly track than originally predicted.  Franklin County can expect power outages and rainfall up to 6 inches.  There will no medical response once the sustained winds reach 45 mph.
The current wind speed is now at 28 mph.
This is for residents want to evacuate the county. This is the last chance to have transportation provided for residents wanting to evacuate.
Franklin County will have School Buses available to pick up residents who do not have transportation.  One small Bag per person.
Pick up times: 10:30 am if you are not at the location at 10:30 am you will not be picked up.
These buses will transport you to a shelter out of the Franklin County Area.
Lanark Village-Chillas Hall
Carrabelle- Carrabelle High School
Eastpoint- Brown Elementary
Apalachicola- ABC School
BE SURE TO MONITOR:
@FranklinEOC on Facebook – Like Our Page for Updates
Alert Franklin – Sign up at www.franklinemergencymanagement.com
Local Radio and TV Stations
WeatherStem- download app on phone or www.weatherstem.com
Office Closures
All Franklin County Schools are Closed Friday 9/8/2017  and Monday 9/11/2017
City of Apalachicola Office, Franklin County Office, and City of Carrabelle  will be CLOSED on Monday 9/11/2017
SHELTERS- Leon County
Lawton Chiles High School – Tallahassee -7200 Lawton Chiles Ln-Tallahassee- Full
Oak Ridge Elementary School- 4530 Sheifer Rd Tallahassee Fl- Full
Canopy Oaks @12:00-
Springwood
Connect with WKGC
comments