Bay County updates on Hurricane Irma – 1230pm cdt 9.10.17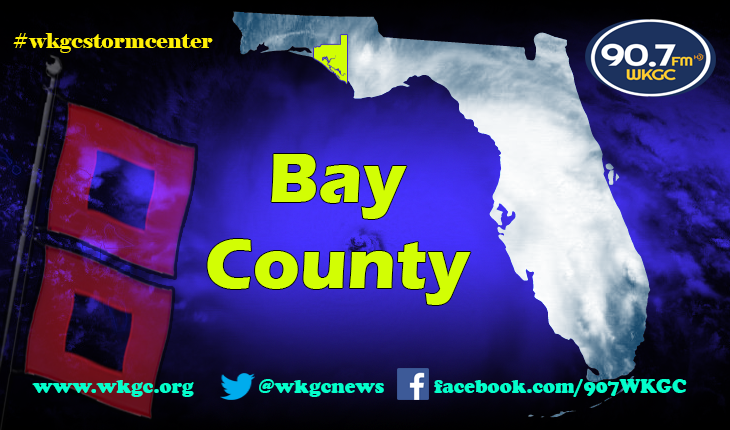 Bay County, Florida – As of noon Central time Sunday September 10th 2017, state emergency management officials continue to anticipate Tropical Storm force winds for the Bay County area beginning at around 1 a.m. Monday.
In support of sheltering efforts, the Bay County Commission issued a local state of emergency Sunday.
The Florida Department of Transportation and the Florida Highway Patrol (FHP) have issued a directive that, for Hurricane Irma, bridges will close at sustained winds of 40 miles per hour. Currently, potential sustained wind speeds of 35 to 40 miles per hour in Bay County are expected from around 1 a.m. Monday morning until noon Monday. Should the wind speeds reach a level that would require closure of bridges, such a directive will be issued by FHP and conveyed to the public via Alert Bay. Please sign up for emergency notifications at 
www.alertbay.org
.
Mandatory evacuations are NOT anticipated for Bay County at this time, as this event does not pose significant storm surge threats that would trigger an evacuation. Residents are asked to, if possible, remain in their homes or shelter locations for the duration of the bad weather.
An emergency shelter will open at 1 p.m. Sunday at Deane Bozeman School, located at 13410 State Road 77. Anyone concerned for their safety as the weather deteriorates should move to the shelter prior to the arrival of bad weather. People who live in mobile homes should consider relocating to the shelter or another safe location. Additional shelters will be opened as needed.
Offices of the Bay County Board of County Commissioners will be closed Monday; however, all Tier 1 employees should report to work.
The Bay County Emergency Operations has activated to a Level 2, or partial activation, to support sheltering needs.
Emergency shelters should only be used when no other sheltering options are available. They do not provide the comfort or convenience of a home or hotel, and it may be crowded, noisy and boring.
Please bring any specialty food or snacks required, and food must be non-perishable. Evacuees should also bring bedding, clothing, medications and toiletries. Do not bring alcoholic beverages, illegal drugs or weapons.
The Deane Bozeman shelter is a pet-friendly facility, however pets must be kenneled and evacuees are responsible for providing food and water for their animals. Vaccination evidence should be presented.
Very little storm surge is predicted for Bay County at this time, though high tide may be one to two feet higher than normal. Storm-surge related evacuations are not expected.
Please follow Bay County, Florida Emergency Services on Facebook for the most current information concerning Hurricane Irma.
Sign up for emergency notifications at www.alertbay.org
Connect with WKGC
comments