Gulf County Update 8am cdt 9.9.17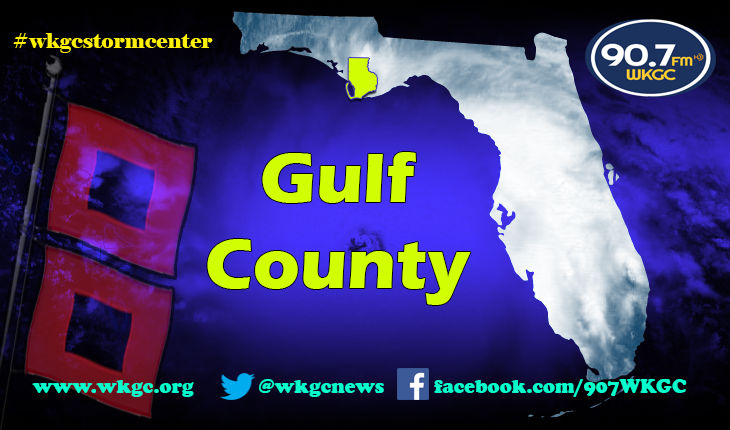 GULF COUNTY RESIDENTS EVACUATION ORDERS/CLOSURES CLOSURES
All county government offices, as well as the court system will be closed on Monday September 11, 2017.
EVACUATIONS
At the Saturday, September 9, 2017 8:00 AM ET Emergency Meeting, the Board of County Commissioners issued:
MANDATORY EVACUATION for all RV's in the coastal corridor (one mile from the water). This includes T. H. Stone Memorial St. Joseph Peninsula State Park, Indian Pass Campground and Presnell's Campground. Port St. Joe Elementary and Wewahitchka High School will be available for staging RV's this morning at 9:00 am.
MANDATORY EVACUATION for all north of the Stump Hole (large rocks alongside the road where the road turns to the north) on Cape San Blas Road (SR 30-E).
VOLUNTARY EVACUATION for those in Evacuation Zone A, water side of Hwy 98, including SR & CR 30-A, as well as Indian Pass. Voluntary for all mobile homes and those in low-lying areas.
SANDBAGS Sandbags are available at the Indian Pass Raw Bar for residents who need them.
SHELTERS – A general population shelter will be opening in Calhoun County today, Saturday, September 9, 2017 at the Blountstown High School, 18597 NE SR 69, Blountstown, FL 32424 4:00 EDT. Items to bring to shelters include bedding, there are not usually cots in evacuation shelters, medicine, and any special foods or snacks needed, Quiet toys to keep children entertained, Chargers for electronics, Towels, showers are available.
BRIDGES Bridges will remain open until wind strength reaches SUSTAINED 45 MPH speeds
ALERTGULF In order to get the most accurate and up to date information, we encourage residents to sign up for AlertGulf Emergency Notifications at
https://member.everbridge.net/index/1332612387832123#/login
Follow our Facebook page found at https://www.facebook.com/GulfCountyEmergencyManagement/
Or visit our website at
http://www.gulfcounty-fl.gov/EmergencyManagement.cfm
MEETING was recessed until 6:00 pm EDT.
Connect with WKGC
comments