Franklin County Update – 7pm cdt 9.8.17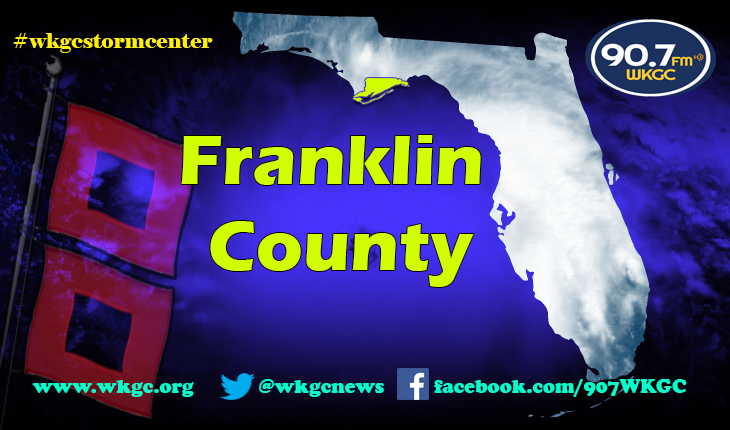 Hurricane Irma Update:
Franklin County Emergency Management is activated to a level 3 monitoring but will be activated to a Level 2 partial at 8:00 on 9/9/2017.
Hurricane Weather Update:
Irma has weakened slightly but remains a strong CAT 4 Hurricane. Forecast shifted slightly westward.
Further Shifts westward in the track could have large changes in the current forecast
According to the current track Tropical Storm Force winds (39-73 mph) can be expected Sunday afternoon- early Monday Morning 9/11/2017. Secure all outdoor items such as chairs, grills, and umbrellas that can move in the event of high winds.
Rain Amounts of 2-4 inches across Southwest GA, Southwest AL, and western FL panhandle. Amounts of 4-6 inches include south-central GA and the eastern FL Big Bend
BE SURE TO MONITOR:
@FranklinEOC on Facebook – Like Our Page for Updates
Alert Franklin – Sign up at www.franklinemergencymanagement.com
Local Radio and TV Stations
WeatherStem- download app on phone or www.weatherstem.com
Office Closures
All Franklin County Schools are Closed Friday 9/8/2017  and Monday 9/11/2017
City of Apalachicola Office, Franklin County Office, and City of Carrabelle  will be CLOSED on Monday 9/11/2017
Mandatory Evacuations: 
Due to predicted 5 feet of storm surge – Franklin County Emergency Management will be issuing a mandatory evacuation for all of Dog Island, Alligator Point and Bald Point beginning at 10:00 am on 9/9/2017.
Voluntary Evacuations:
Voluntary evacuation will be issued for St George Island/ low lying/ and mobile homes beginning at 10 am on 9/9/2017
Due to prior storm damage and uncompleted repairs-  Alligator Point, Bald Point Residents will not be allowed back into the area after evacuations until after the storm has passed and the area has been assessed for damage. Alert Franklin will notify all residents when it is safe to return.
Until the assessment has been completed no resident will be allowed into the area and will be turned around at the checkpoint.
SHELTERS
Lawton Chiles High School – Tallahassee -7200 Lawton Chiles Ln-Tallahassee
Oak Ridge Elementary School- 4530 Sheifer Rd Tallahassee Fl
For more information:  Franklin County Emergency Management
Connect with WKGC
comments